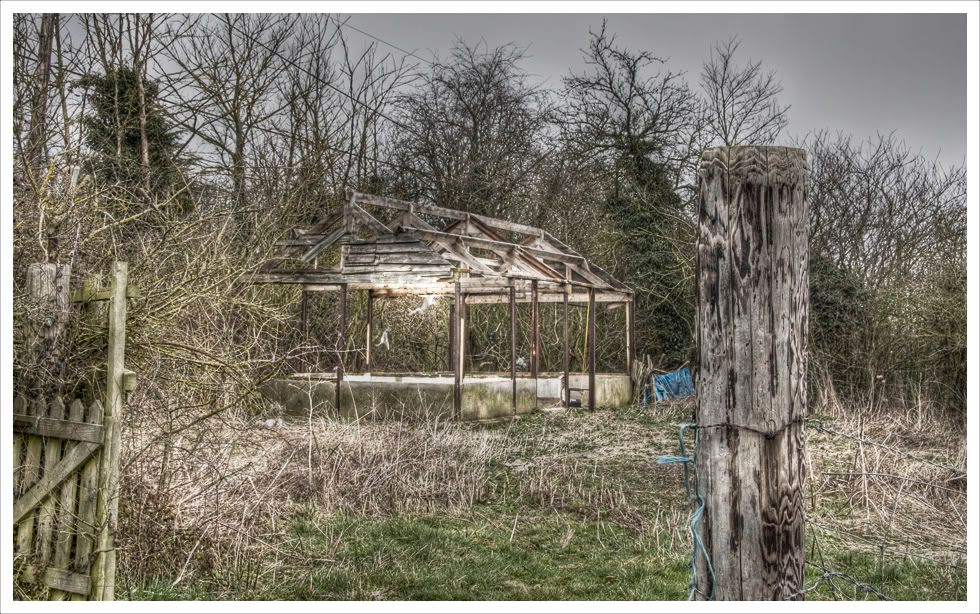 Still not feeling 100% but I hope that it's on it's way out of my system.
On top of that yesterday's thinking wore me out, I can only manage that once per week I reckon, I'm getting on you know ;O)
I was having a read through the latest tutorial over at
Chromasia
which covers creating an HDR from a single file so I thought I'd give it a go. I must admit I haven't finished reading yet but I'm forever impatient. Anyway if you hate HDR then you're going to hate this too but I have to say that I'm quite pleased with the way it looks. I'd tried working with the image as I normally would and it was just dull.
The shack itself is down the lanes next to a pub, there used to be horses in this small field but it went out of use, got overgrown and the shack fell into disrepair. It looks as though something is happening now though and judging by the way the rotten stuff has been carefully removed perhaps they're repairing it. So the title today is bitter sweet; I love old stuff that gets saved and repaired but the "Love Shack" song by the B-52's has to be my all time most disliked song!
So let me know your thoughts, good or bad, everything helps!
CM2009