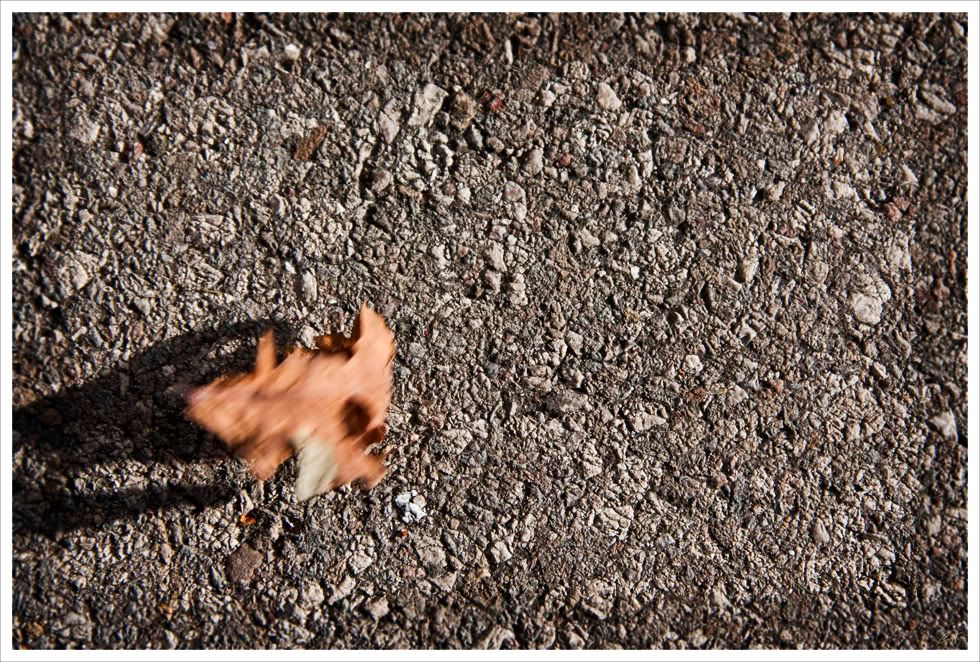 I'm not feeling a whole lot better it has to be said but I did manage to get a few jobs done today.
I was flicking through some raw files today, really to get rid of the stuff I knew was no good or that I knew I wouldn't use. I was also looking for something to work up and post when I came across this.
Now I didn't intend it to be this way but just as I pressed the shutter it took off in the wind. Anyway I kind of liked it this way and it struck me that it was just passing through the frame, on it's final journey to somewhere. It would find a resting place and eventually it would be food for new life somewhere continuing the circle of life. Not wanting to be morbid, it's much like ourselves, we are as individuals just a small part of the story of our planet, caretakers if you will. Not that we're making a very good job of it on the whole but I hope that we're learning how to take better care and that effort is enough and in time.
As we all scramble around worrying about the current economic situation, a system we created, which essentially involves the passing around of bits of paper and metal in exchange for goods and services. We're in a mess because of that need, drive to make more profit, produce more growth than the year before etc, essentially it's greed. People are losing their jobs which in turn leads to going cold, hungry, losing homes etc. Further from home people are dying from starvation and preventable disease. I offer no solutions, I'm as wrapped up in this system as the next person but when you mentally take a step back and look it all seems a bit ridiculous.
I'm not a great thinker and certainly not a great writer but I hope I've made sense enough above for you to get the gist of what I mean?
CM2009