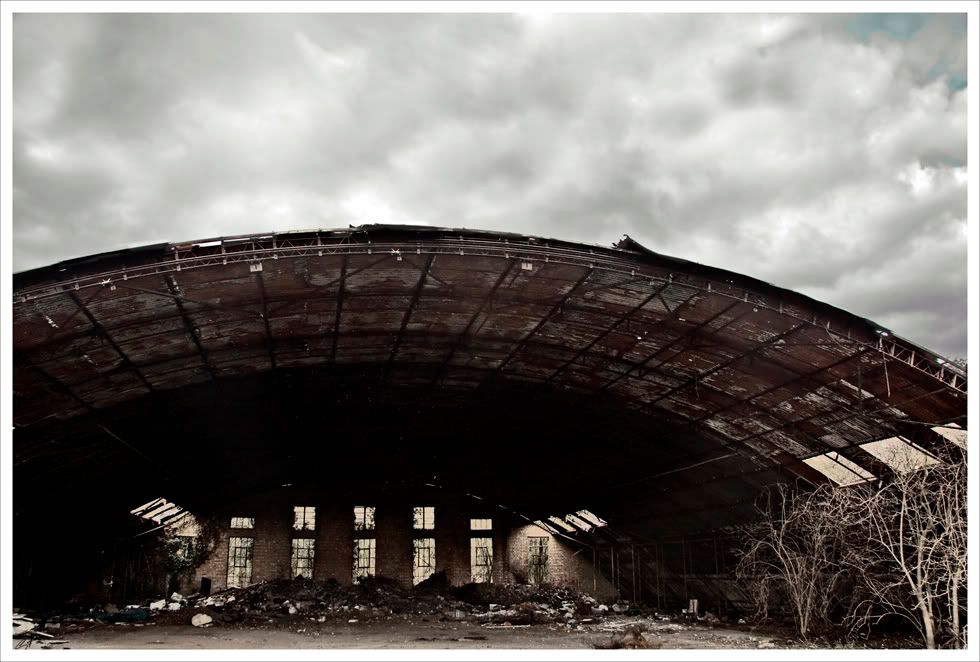 Well I haven't started my caffeine experiment, you can tell because I'm still awake!
This, obviously, is another shot from Panshanger Aerodrome. The same hanger that I posted a few days ago and I think I prefer this one. It shows more of the detail.
It occurred to me today that one of my regular readers lived in the street that was on the natural boundary, separated by a bridleway, of the aerodrome and the housing. I won't say your name as I'm sure you remember where you lived!! Seems a long time ago now eh? Yet still fresh in my mind, curious.
This is where, in my opinion, the development should have stopped. The land is after all green belt but as I'm sure many of you have seen all over our country that green belt moves oh so conveniently when there's development and lets be honest, money involved.
Now housing spreads across much of the land leaving only one grass airstrip when there once were four. Some of the streets in question are now "Halifax Way", "Shackleton Way", "Stirling Way", "Lysander Way", "Martlesham", "Wellington Drive" and for the love of something or other "Bader Close". Now none of these aircraft had anything to do with Panshanger (save for a Wellington crashing nearby) or indeed the closely linked De Havilland Aircraft factory and I'm 99.9% sure Douglas Bader never came near the place. I was going to say that it shows little imagination but really it shows none. At least they could have used names that reflected the heritage of the site. Funny enough the people that live in these streets now wish the airfield to remain, why? Because any further development will spoil the views. I don't blame them but I bet the people in the last twenty streets felt the same.
Ok I'm going to sign off. I'll probably not post any more from here as you're probably sick of seeing them and most definitely sick of hearing me bang on about it. What's gone is gone and I'm probably powerless to change the future too.
Thanks for reading anyway.
CM2009