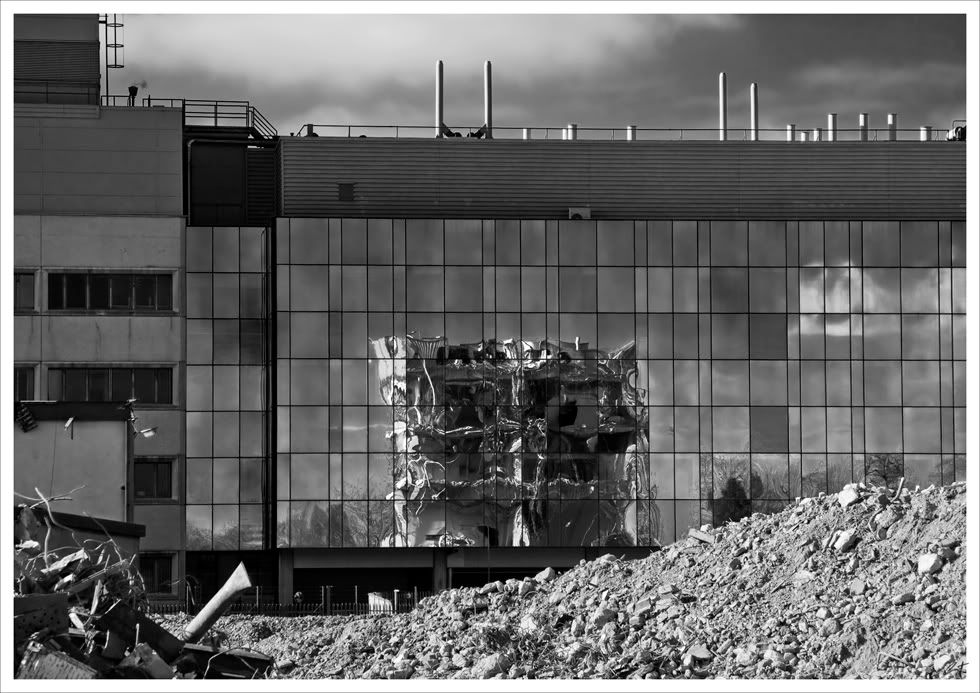 So I'm off to Focus on Imaging tomorrow and I'm looking forward to it. I might not be able to buy all the latest goodies but it's good to have a drool :O)
This is from the same set as the last two posts. The company in question this time is Roche, or at least what's left of it. As far as I understand it the building behind is not owned by Tesco, a small L shaped section of the site is owned by another developer and that building is for rent at the time of writing (sounds like I'm trying to sell it!!).
I was in a real dilemma with this shot. Colour or B&W and should I crop it or not? I decided on B&W (obviously) and I haven't cropped it because I liked all the rubbish in the foreground. You can see the colour version
here
if you wish to see it. I wondered about cropping the left section (up to the where the mirrored windows start) and a small amount of sky. It was the reflection I was drawn to but because my longest lens doesn't reach that far and I was pressed up against the railings this was the best I could do without including distracting elements on the right. So there you have it, all my excuses ;O)
The title? Well if you stand head on to this building from the road you probably wouldn't realise that all that devastation was at the rear. I suspect it will be gone for good very soon.
I may not get to post or comment tomorrow depending on when I get back so I beg your forgiveness in advance!
CM2009