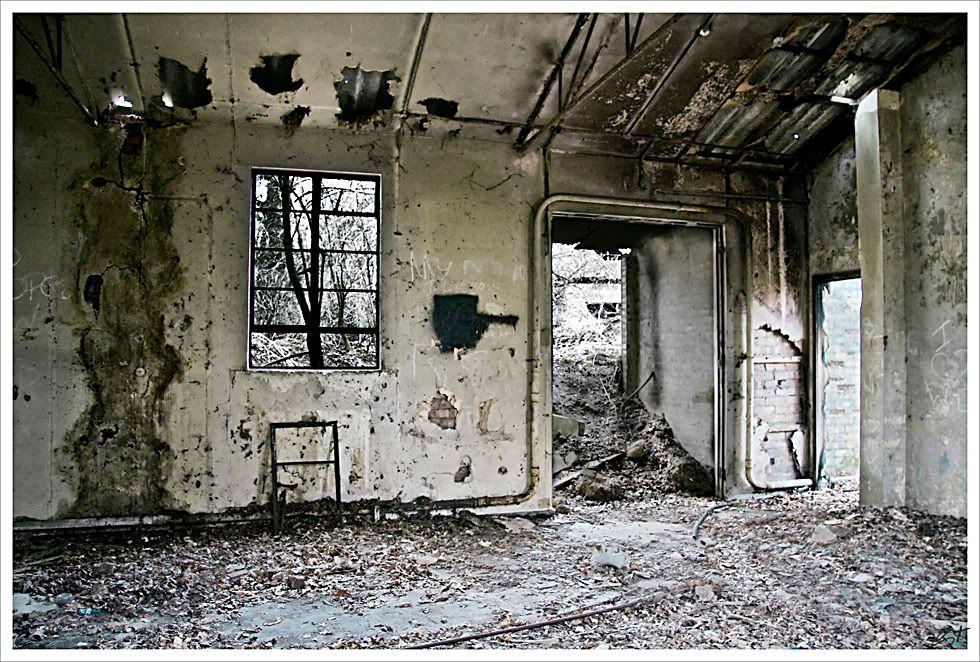 I'm even later posting tonight, soon I'll be staying up through the night or give up posting every day!
This is another shot from Panshanger Aerodrome. This is a shot through the window of the old lecture block. There are very few of the old building being used at all and I don't know the reason for that but it means they are falling into a worse state of repair day by day. Vandalism has been the cause of most of the damage plus of course time itself.
I spent a lot of time here when I was child, my sister lived quite close by, in fact her street at the time was the edge of the Panshanger estate and the whole aerodrome was intact, my own home was not that far away either. Now I was not a goodie goodie kid in my day but I didn't smash things up, I think I've always had a sense of respect for property, people & history for as long as I can remember. We used to go and sit in the old control tower and watch the world go by, chat, take our girlfriends there even! The old control tower along with it's associated club house building had to be torn down just because of vandals, I wish they had the sense to stop and think.
I have this romantic notion that some of these buildings might be saved but really I know I'm kidding myself. I intend to go back and shoot some more whilst I can, the difficult lighting with the interior of the dark hangers and bright outside light makes them a ripe subject for HDR shots too.
CM2009