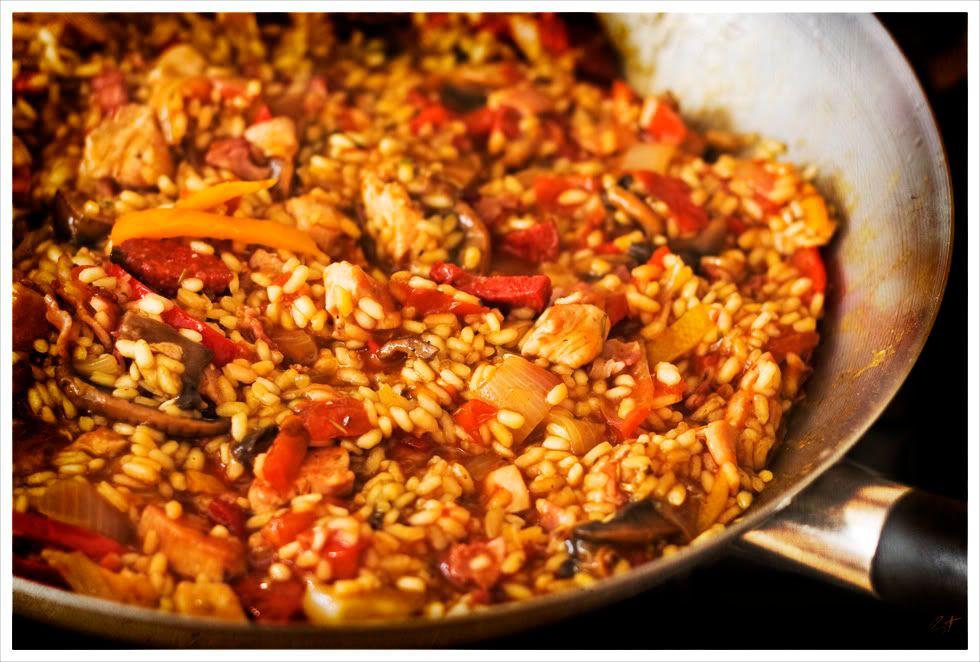 So I thought I would post something completely and utterly different today. I joked with a pal of mine that I would post the recipe after he called me a show off, after I thought it might make a change.
My wife looked at me like I had lost the plot when I changed lenses and popped the nifty fifty on whilst I was cooking but what the hey eh?
A disclaimer first; this recipe is in no way authentic, has been cobbled together from all sorts of ideas so I apologise in advance to any Spanish readers! Also if it makes you ill, it was your own fault because I'm still standing ;) This will feed 4-6 people.
You Will Need


60ml Olive Oil


1 large red pepper, 1large yellow pepper (cut in strips)


1 onion & 1 red onion (roughly chopped)


4 chicken breasts (cut into smallish cubes)


200g Chorizo sausage (cut into slices or as you like it)
One pack of back or streaky bacon (roughly chopped)


200g mushrooms (sliced)


Garlic cloves, crushed (I started with three, I now use five :)


1 tablespoon of lemon zest


700g of tomatoes (roughly chopped)


1 tablespoon of rosemary


2 tablesoons of italian parsley


1/4 teaspoon of saffrom threads (in reality I use more to get that yellow colour) dissolved in 60ml of boiling water.


500g rissotto rice


500ml chicken stock (use a good liquid stock)


White wine (1/4 to 1/2 of a bottle)
Now I use a large wok to cook this in because I haven't found a paella dish anywhere big enough!
Heat the oil and pop in the onions & peppers, cook until soft and remove. Whilst they're cooking I usually start the chicken off in another pan to save time (once cooked switch off and leave until needed)
Now cook the chorizo until golden and remove, then do the same with the bacon.
Cook the mushrooms, garlic and lemon for about five minutes then add the onions/peppers and the tomatoes, cook until the tomatoes have softened.
Now add the chicken/chorizo/bacon/parsley/rosemary and the rice, pour in a good glass and a half of white wine and stir.
Once the wine has been absorbed start add the stock a ladle full at a time. Traditionally paella is not stirred but I continue to stir mine throughout. Keep simmering and adding stock until all the liquid is absorbed. The rice should be creamy but still have a slight bite, if you find it needs more liquid add some more wine ;)
Now serve onto plates or bring the dish to the table and let everyone help themselves. Serve with lemon wedges if desired.
I don't think I'll be doing this often because 1, it's a photo blog 2, it took me ages to write ;-) (now double the time because blogger decided to ask me to sign in after pressing publish and lost most of what I had written).
CM2009